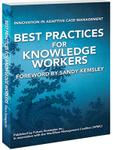 Best Practices for Knowledge Workers
describes ACM in the current era of digitization, Internet of Things (IoT), artificial intelligence (AI), intelligent BPMS and BPM Everywhere.
You will learn how support of adaptive, data-driven processes empowers knowledge workers to know in real-time what is happening at the edge points, and to take actions through the combination of rule-driven guidance and their own know-how.
It is not a traditionally-automated system but
intelligent automation
, where
technology doesn't replace human decision-making but extends the
reach of the knowledge worker; making IoT data actionable.